Most affordable project of the Real Estate -
Casa Greens (94.3 my fm, MP entrepreneur and excellence awards indore 2016)
Our greatest reward at CASA GREENS is the assured smile of our customer. Yet, every now and then, recognition by prestigious institutions makes us smile as well. A real estate company's reputation is built in part by what people say about it. We feel privileged to have received these honors.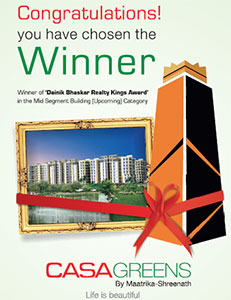 Beyond this , our directors also awarded for their performance in real estate industry locally and nationally by various associations time to time.
Powerful Individuals in Real Estate, trophy
Best real estate consultant online survey magazine etc.